Comics Epidemic
The Comics Epidemic is a collection of 43 tales in the graphic narrative format made by the residents of Dharavi, Mumbai.
Using the body as a site, the participants engaged with various themes like food, nutrition, injuries, safety, accidents, relationships, sexuality, mental health, and gender-based violence. The graphic stories were made by first-time comic creators of varying ages from fourteen to sixty, in four art-boxes (sessions) spread across two years. This black and white anthology is a collection of experiences and memories of growing up in Dharavi.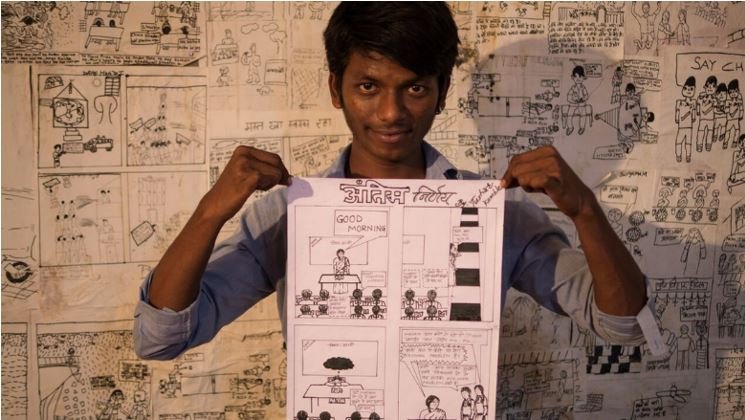 Tushar Kamble, holding up his comic of a school teacher who is depressed. Her students care about her mental health and come together to share and hold her hand.
Located on 90 Feet Road in the heart of Dharavi, Colour Box is the hub, meeting place and gallery for the Comics Epidemic. 
At the first Artbox held at the Sion Hospital, everyone poses for a rigorous round of sketching.
We drew everything… Objects, props and backgrounds.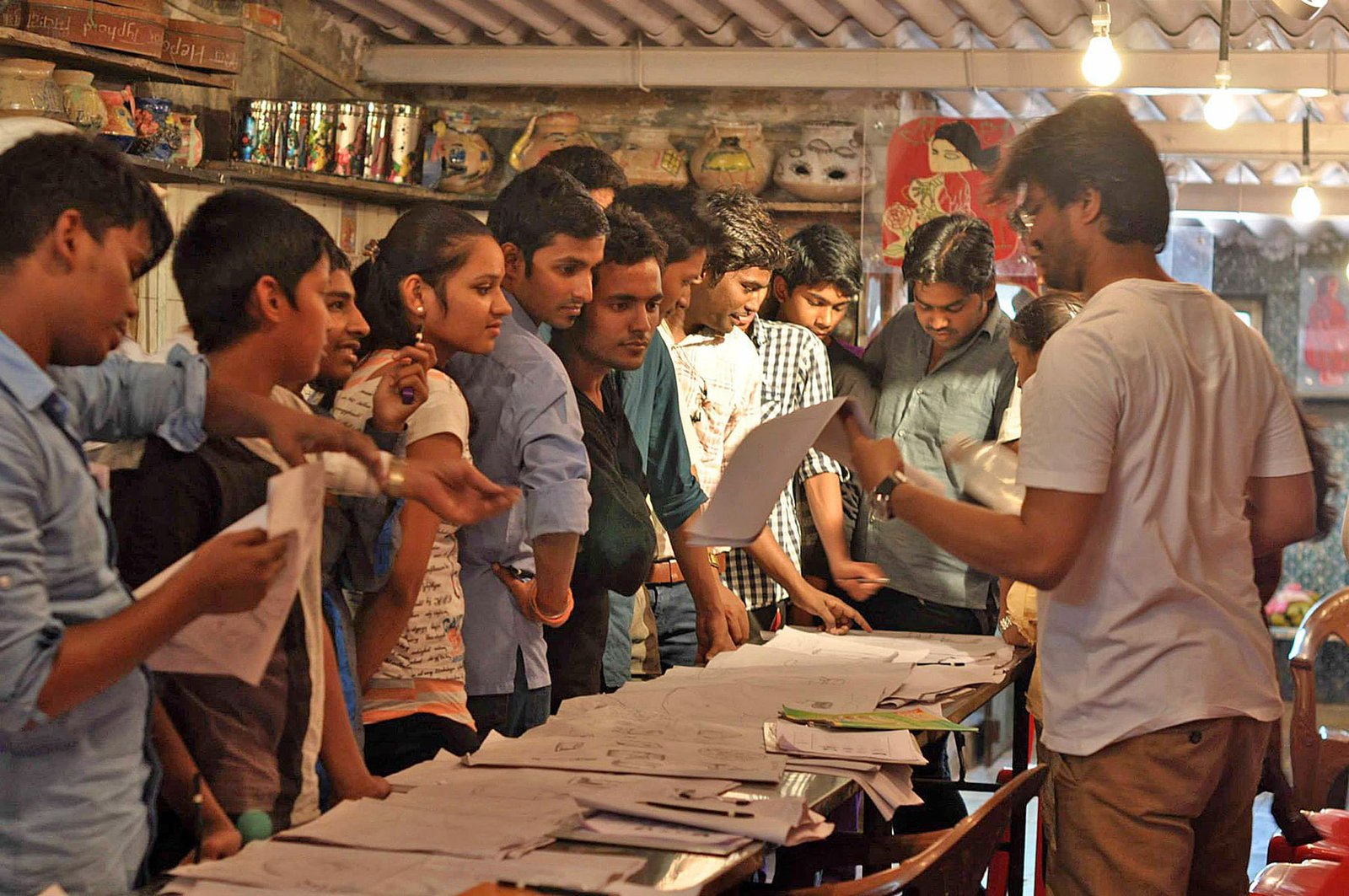 Peer / Review: Participants for the Comics Epidemic share their sketches for a round of critique and feedback.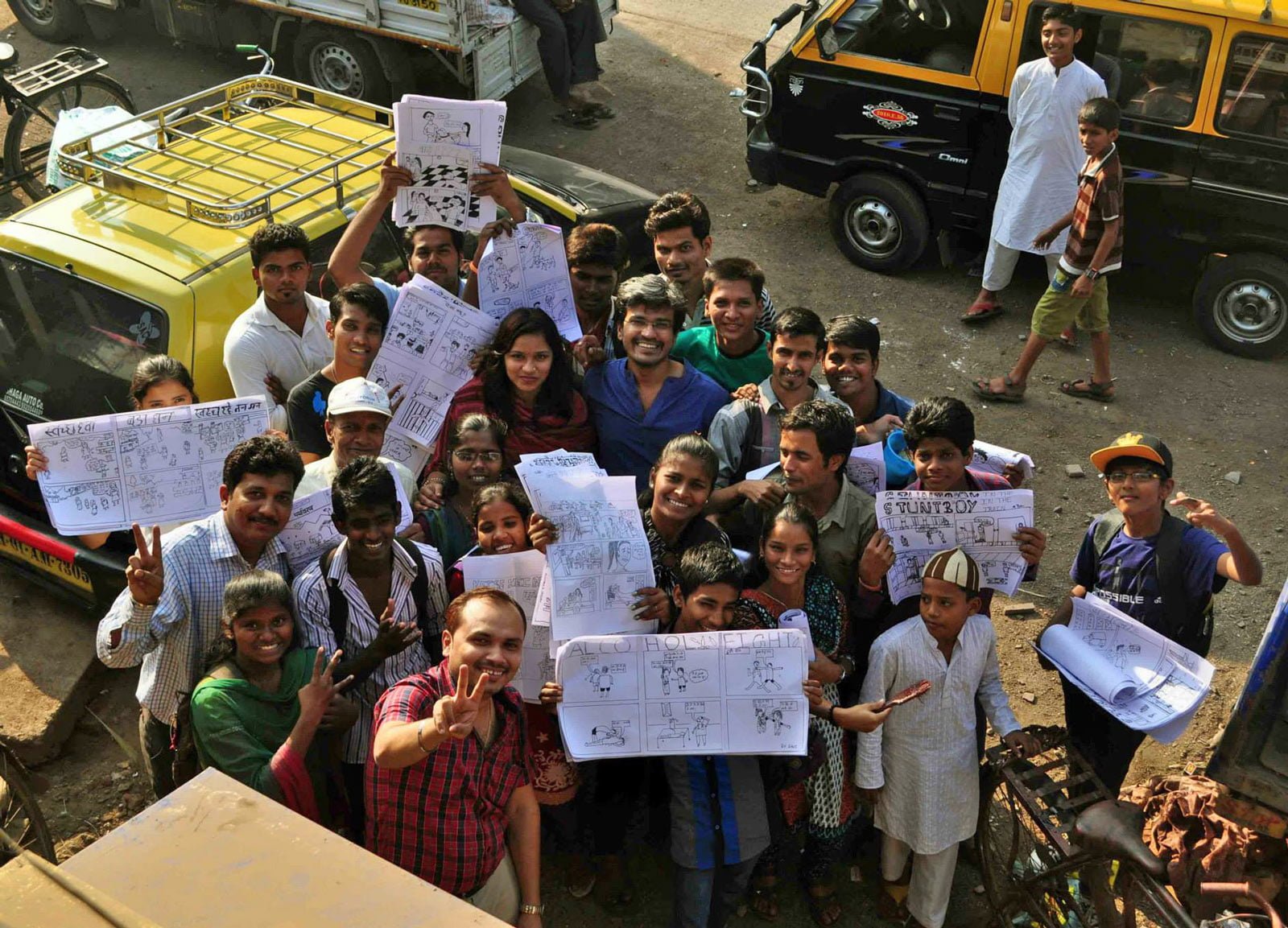 Participants of the Comics Epidemic hold up their comics for a quick picture outside Colour Box. The comics were pasted up on walls and read out to passers-by and shared in the vicinity of each of the participant's homes.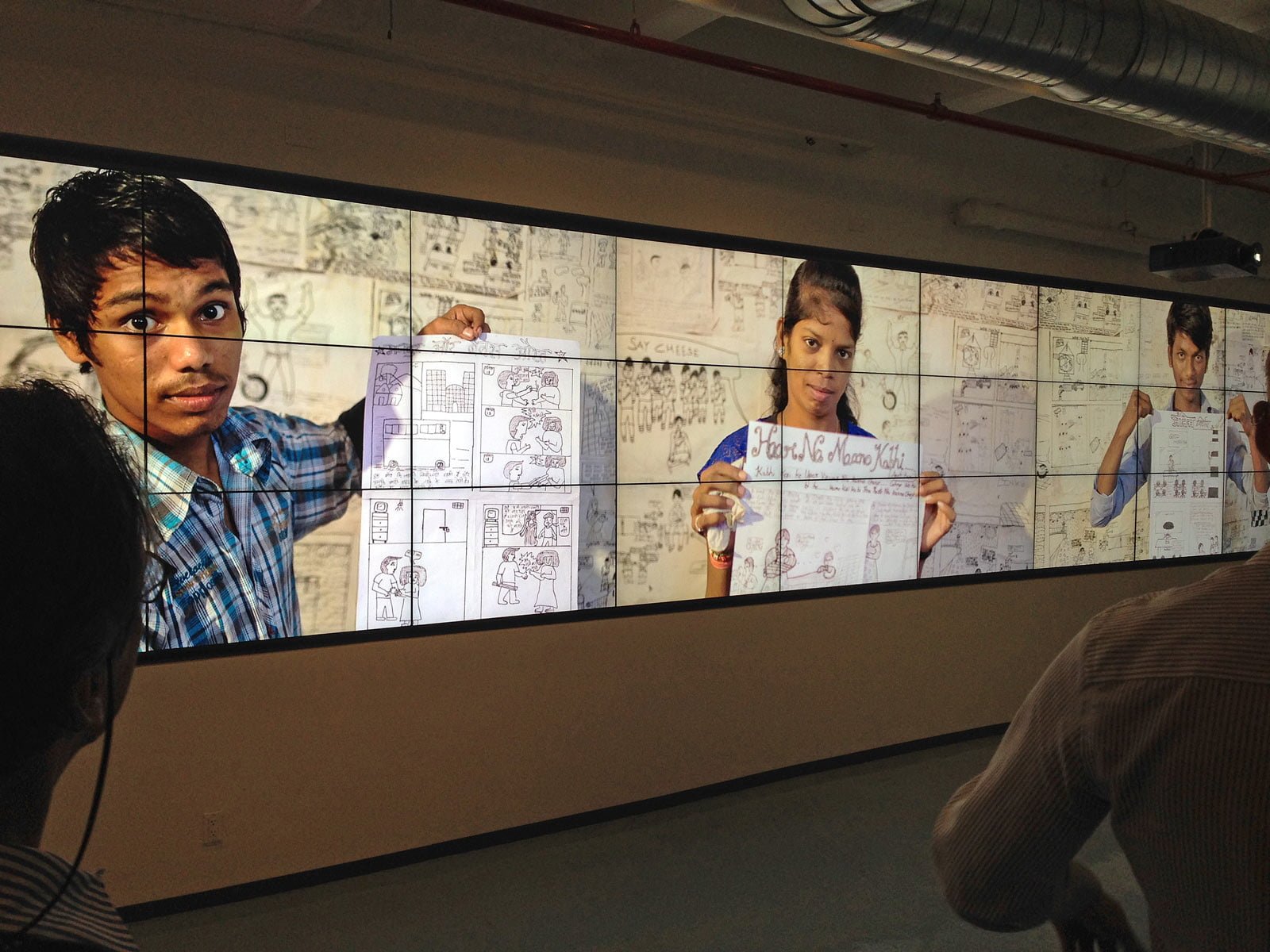 Through the Comics Epidemic, Priya's Shakti collaborated with Dharavi teenagers to create their own visual narratives on gender-based violence. The comics were exhibited at the IFP Made in NY Media Center, Brooklyn, NY, United States
PARTICIPANT ARTISTS
Akhturnissa . Mangal Shinde . Suryamala Adsal . Komal Kale . Sita Waghmare . Komal Vatkar . Ashwini . Shubhangi Sonawane . Surekha Tapase . Priyanka Tapase . Ganesh Joshi . Vaibhav . Pramod . Bhavesh Devaliya . Kaushik Devaliya . Sana . Naina Sawardekar . Pooja Vatkar Sonali Sonawane . Sushma Shinde . Tinku Jha . Jyoti Katke. Misbah . Sachin Jaiswal . Sudhanshu Sharma . Pinku Jha . Akshay Shinde . Sudha Sadhaphule . Laxman Mane . Rupesh Sable . Raghvendra Pol . Nilesh Pendurkar . Manoj Jaiswar . Kisan Salbul . Kanchan Gore. Ravi Vishwakarma . Avinash Jadhav . Sunita Laxman . Pooja Vaish.  Surekha Kadam .  Nisha . Dashrath . Saraswati Bhandare . Naushad Sheikh . Sanjay Jaiswar . Aniket Bagde . Navita Chitkindi . Tushar Kamble . Reshma Shaikh. Suraj Kale . Saiba Shaikh . Gudiya Pandey . Aarti Kori . Swapnil Kadam . Bhagyashree . Komal Kale . Komal Vhatkar . Nirant Kondave . Santosh Vishwakarma . Manish Sonawane . Darshana  Dhawale . Jyoti Yadav . Dilshad Shaikh
HEALTH EXPERTS AND SOCIAL SCIENTISTS
Dr Hemal Shroff, Sarika Salunke, Dr Anil More, Sumit Pawar, Pradeep Pawar, Sneha Kupekar, Reshma Jagtap
Presentations and collaborations:
Comics Epidemic was presented as a part of a panel discussion on the Dharavi Biennale at the National Gallery of Modern Art, Mumbai, on 4th February 2015. The discussion featured the Dharavi Biennale project co-directors, Dr. Nayreen Daruwalla and Dr. David Osrin, and comics creator Chaitanya Modak. The discussion was presented in association with the Mohile Parikh Centre's Visual Arts forum.
Comics Epidemic was presented at Comics and Medicine: From Private Lives to Public Health, an international workshop hosted by Graphic Medicine and the Johns Hopkins University School of Medicine Department of Art as Applied to Medicine, 26th – 28th June 2014.
Tech mentors Mayur Patil and Omkar Walimbe from the Mozilla Foundation's Maker Party Nashik Chapter came over to Dharavi to teach animation tricks using Popcorn Maker to the enthusiastic comics creators, so that sound and movement could be added to 2D comics. 
COMICS EPIDEMIC
Softcover, 100 pages. Dimensions: 7 in. x 9 in., Offset print on Maplitho
Comics Epidemic is a community co-mix initiative, facilitated and curated by Chaitanya Modak for the Dharavi Biennale.  Presented by SNEHA (Society for Nutrition, Education and Health Action), Mumbai.